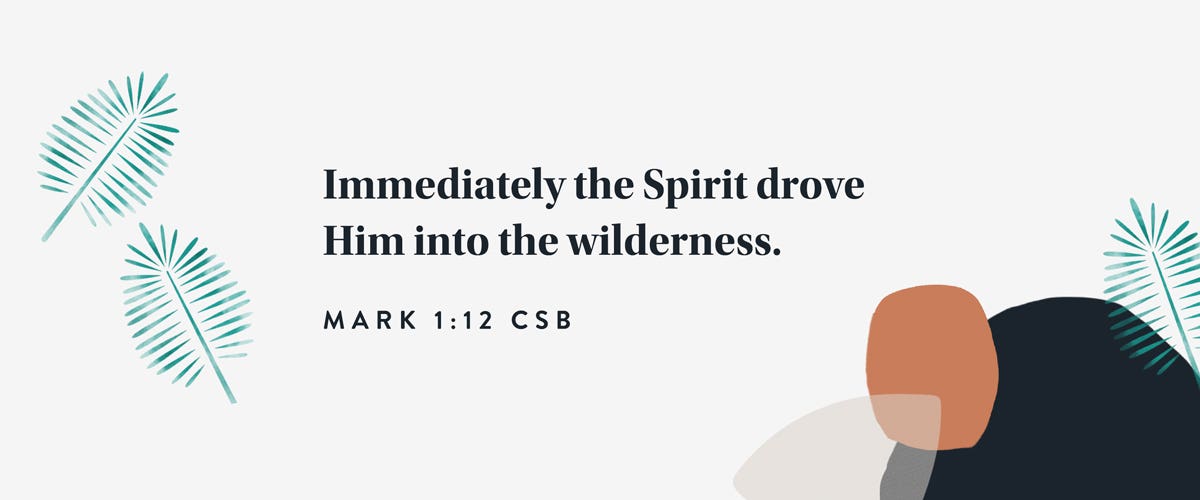 Immediately the Spirit drove him into the wilderness. He was in the wilderness forty days, being tempted by Satan. He was with the wild animals, and the angels were serving him. (Mark 1:12-13 CSB)


When I began studying ways to prepare my heart for Easter, something many know as the season of Lent, I read everything I could find about the time Jesus spent in the wilderness. While accounts can be found in three of the Gospels, the brief description in Mark is what resonated most deeply with me.


Thinking of Jesus, alone in the wilderness, being tempted by Satan, and surrounded by wild animals was a breath of fresh air to my distracted, weary soul. I feel alone! I'm tempted all the time! And yes, at times it feels like I'm surround by wild animals!


When we struggle to quiet our lives and our hearts enough to focus on God, Jesus knows exactly how we feel. And what I know from passages in Matthew and Luke is that, despite the desperate situation in which He found Himself, He resisted temptation. The angels served Him, He leaned on His knowledge of Scripture and faith in God, and He resisted.


So what does that mean for me, as I think about one more failed attempt at a simple quiet time? What does that mean for you, as you feel the hunger and isolation of wilderness or battle attacks from temptation of all kinds? As you long for communion with the Lord but feel unable to get there, to stay there, to remember why you were going there in the first place?


It means this: our Lord and Savior isn't just the One who can quench our thirst and ease our pain. He is worthy of our praise and adoration, but He also is intimately familiar with our challenges and our struggles. He knows the strength it requires to seek Him and abide with Him, and He knows that, without Him, we will perish in the wilderness.


It means that not only is Jesus our goal when we set aside time for Him, He is our solution for fighting through all the distractions and temptations that work so hard to keep us away. It means that, no matter how barren and empty our personal wilderness may feel, we are not actually alone in our search for God. Just as the angels were with Him, Jesus is with us.


Dear Lord, thank You for going first into the wilderness – for showing us how important it is to get alone and quiet, to seek God, and to listen. Thank You for going with us when we face temptation and distraction – for giving us the tools we need to resist. Jesus, You are worth every effort it takes to quiet my mind and my heart. You are worthy of every minute I devote to You above all else. Please meet me in this place. Bind my wandering heart to Yours. Keep my eyes set on You. Thank You, Lord, for never letting me go. Amen.