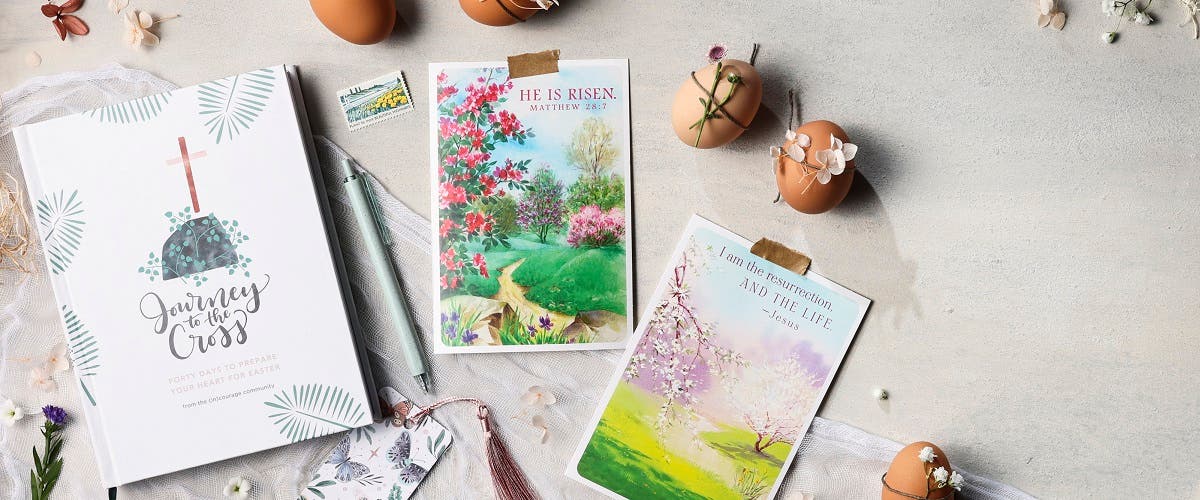 It seems like we were just celebrating the joys of Christmas, and now here we are preparing for Lent. We all understand what Job meant when he said, "Now my days are swifter than a runner" (Job 9:25)!
The 40 days of Lent is a time to reflect on your faith and prepare for Jesus' death and resurrection. This is one of the holiest times of the Christian calendar, and, here at DaySpring, we have all the resources you need to focus on your faith this season.
When Does Lent Start?
Ash Wednesday signifies the start of Lent. This year, Ash Wednesday is on February 22, 2023.
On Ash Wednesday, we go to church to receive ashes as a reminder of our mortality. As God said to Adam in Genesis 3:19, "You are dust and to dust you shall return." However, the ashes are drawn in the shape of the cross, reminding us that Jesus died for our sins on the cross, and through Jesus we can have eternal life.
What To Give Up for Lent
Lent is a period of repentance and sacrifice. Traditionally, Christians choose something to give up for Lent to signify that sacrifice.
However, instead of giving up a trivial snack or treat this year, try dedicating your Lent to growing your faith. Make your sacrifice a bit of your free time, and give that time back to God. We have many resources you can use for Lenten devotions, daily prayers for Lent, and more ways to keep your focus on God.
Lent Devotions And Bible Studies
Journey to the Cross is a 40-day devotional to guide you through Lent and help prepare your heart for the joy of Easter. It features daily scripture readings, essays, and more, with dedicated sections for each day of Lent.
Extend your devotional readings beyond Lent or read more than one per day with Radiate by Cleere Cherry Reaves. This book features 90 devotions to help you understand Jesus' love for you and, in turn, reflect and radiate it to those around you.
The (in)courage Create in Me a Heart of Hope six-week Bible Study takes you through prayers, Scripture, and lessons each day. These lessons are focused on recognizing the hope God offers — even at times when you feel hopeless. This is the perfect Bible Study for Lent, a time when we as Christians reflect on our faith and look forward to the eternal hope that Easter symbolizes.
Dive deep into the story of Jesus' life, death, and resurrection with the Illustrating Bible – The Gospels. This NIV translation Bible has big square pages that each feature a single column of text and a wide margin for adding notes, drawings, stamps, or anything else you like. Bible journaling is all about reflecting on your thoughts and feelings about God's Word and relating them to your experience. Whether you're new to Bible journaling or looking for the next verse to study, this Illustrating Bible of the Gospels is a wonderful place to spend your Lent.
Year-Round Faith Resources
DaySpring's DayBrighteners are daily calendars you can use year after year, as they include dates without the day of the week. Use these calendars to find daily inspiration throughout Lent and all year long. Choose the Create in Me DayBrightener, a perpetual calendar filled with inspirational quotes and Scripture verses to invite God into every day. Or embrace missionary Elisabeth Elliot's wisdom and inspiration with the A Heart for God – Perpetual Calendar. Each page features Scripture and reflections from Elisabeth to serve as a daily devotion and keep you centered on Jesus' boundless love.
Extend your Lenten Bible reading to a year-long study with the DaySpring Hope & Encouragement Bible. This NLT Bible features 52 full-page devotions — one for each week of the year. There are also reading plans for each of the 12 Indisputable Truths that will help you recognize and embrace your place in God's heart.
Another beautiful Bible choice is the Personal Size Giant Print Bible from the DaySpring Signature Collection. Not only is this NLT Bible stylish and sleek, but it also includes access to the Filament Bible app. This app enhances your Bible Study experience with videos, maps, music, study notes, and more, enabling you to connect even more deeply with God's Word.
Religious Gifts For Easter
Keep the focus on Faith this Easter. While everyone enjoys colored eggs and chocolate, enhance your holiday with DaySpring's faith-filled gifts. The Cleere Cherry Reaves Clip Frame & Art Print Set makes a beautiful Easter gift. This simple 6 1/2" x 7 1/2" frame features a gold clip and 30 double-sided cards. Each side features a beautifully-designed devotion, Scripture, or prayer. Simply clip a new one into the frame each day for daily inspiration!
Resources For Lent And Easter
DaySpring is your source for everything you need to guide you through Lent and the Easter season, from guided devotionals to journaling Bibles and more. Set your homepage to our Daily Devotion and download a mobile wallpaper for your phone to keep your mind on God wherever you are. Follow along with us on Facebook and Instagram for daily inspiration. Above all, have a blessed Lenten season preparing for the joys of Easter!