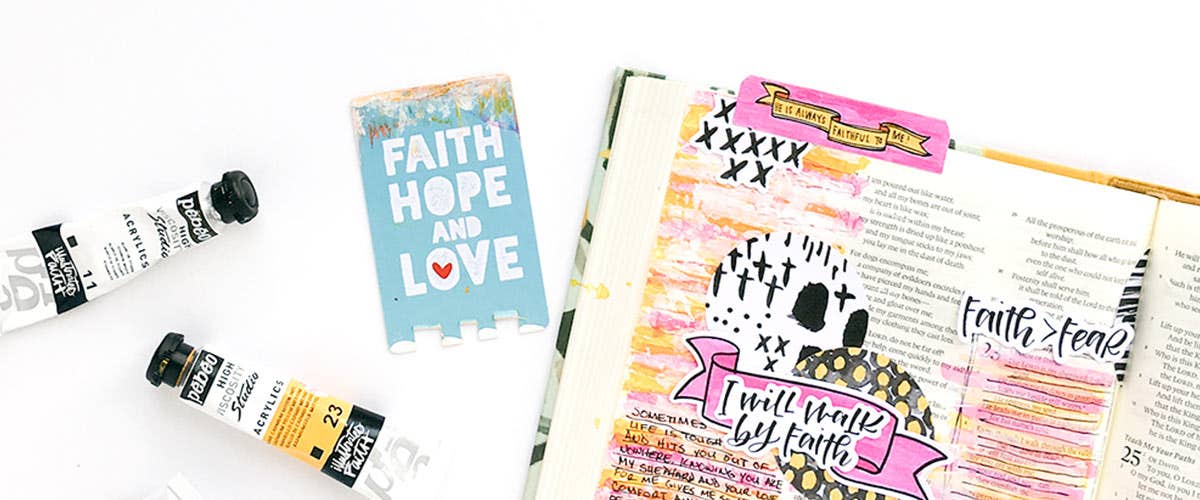 I will confess that anxiety is one of my biggest struggles. It's so not healthy and affects me in such a negative way and reading Psalm 23 for the last week of the Perseverance devotional really helped to calm me down. I've decided that this is a passage I should really memorize for times when I've feeling extra anxious. That reminder that my Shepherd is always by my side just calms me down instantly. It reminds me of the new Faith>Fear collection and some of those hand-lettered paper pieces are so perfect for this passage.
I wanted to have some fun with the paint scraping tutorial (Find Scraping Paint Tutorial 101 here) and instantly thought it would be fun to do a striped background. I was just going to do pink stripes but then got carried away in having fun and I hope you have some fun with this tutorial too.
We're going to cut up a paint card!!! Thankfully there's four in a pack so we can have some fun with this… also, since we're only doing one side we won't have to worry if we only have one paint card. Because of this, you're going to want some heavy duty scissors that will cut through them.
STEP ONE:
I used the Bible mat to mark out evenly spaced notches. I then cut the notches out… okay, maybe it's not perfectly even but close enough LOL.
STEP TWO:
Add a dab of paint to each of the edges… have fun with this, you don't have to use all the same color. I'm thinking this would be fun to do a rainbow of stripes!!!
STEP THREE:
Scrape your card across your page… if you want the paint to make it all the way across your page, make sure you add more paint than just a dab.
STEP FOUR (OPTIONAL):
Repeat with another color… I repeated with the yellow and then again with white.
After I had finished my stripes I had fun coloring some of the paper pieces as well as punching papers in large circles. I also repeated the paint look with highlighting the passage. I then ended with writing out some journaling/prayers and dated it. I'm really loving all the fun things we can do with the black & white collection by just adding color or painting a fun background.
Looking for more Bible Journaling resources? Check out our entire selection of journaling Bibles and supplies. And, for more inspiration, view the Bible Journaling category of our devotional library and sign up for our e-newsletter to receive free articles, updates from our Ecard Studio as well as exclusive deals.