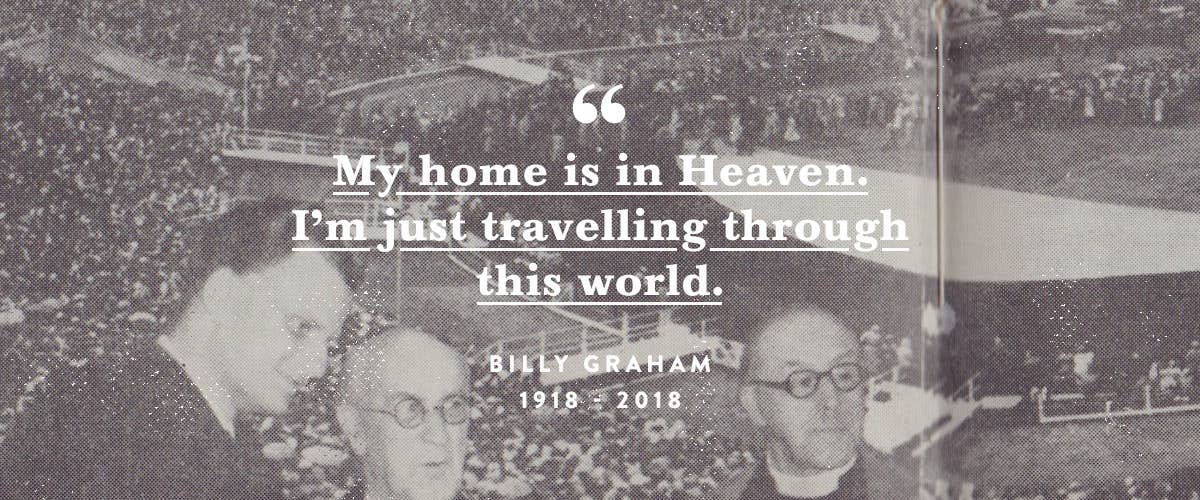 "His master replied, 'Well done, good and faithful servant!'" Matthew 25:21 NIV
At the age of 99, Rev. Billy Graham left this life and finally saw his Savior face-to-face. While we can only imagine the welcome he received, Matthew's words, "Well done," are a fitting tribute to the man who many consider to be one of the 20th century's greatest evangelists.
Rev. Graham's distinguished career spanned more than six decades. He tirelessly preached the Gospel to as many as 215 million people in 185 countries. In the U.S., he earned the unofficial title of "America's pastor" due to his influence on our country's leaders and on our culture. Rev. Graham met with and prayed with several of our presidents and helped the country heal through such difficult times as the tragic events of September 11, 2001.
Whether you attended one of his famous rallies, listened to his recognizable voice on the radio, or read one of his newspaper columns or books, you have been influenced by this man. Today, let's pause and take a moment to pay tribute to this great hero of the faith. Here are a few ways you and your family can honor him and his lifetime of service.
Praise our heavenly Father
Rev. Graham once said, "My home is in Heaven. I'm just traveling through this world." And what a trip it has been! Only God knows how many souls came to know their Savior through Rev. Graham's preaching and teaching. Lift up a prayer of thanksgiving to our heavenly Father, thanking Him for this humble, steadfast servant who traveled the globe sharing the Good News.
Remember his courage
Most certainly Rev. Graham and his ministry faced many obstacles and challenges during his lifetime. But time and again he chose to trust God and faced those challenges head on, with courage and confidence. What about you? Are you following God's will for your life? Or, is there something you aren't doing due to a lack of courage? Pay tribute to Rev. Graham today and take that step in faith. Your courage may serve as an inspiration to others. As Rev. Graham once said, "Courage is contagious. When a brave man takes a stand, the spines of others are often stiffened."
Share your story
Do you have a personal memory or story to tell of how Rev. Graham impacted your life? Share what Billy Graham's life meant to you on the memories & condolences page set up by the Billy Graham Evangelistic Association. Let his family know how God used him and his words right at the time you needed it most.
Embrace his purpose
Throughout his life and ministry, Rev. Graham demonstrated what he felt was his one sole purpose – to help people have a personal relationship with God. Even as he advanced in years he kept his eyes focused on that goal. In responding to questions about his continued passion over the years, Rev. Graham said, "Scripture is filled with examples of men and women whom God used late in life, often with great impact – men and women who refused to use old age as an excuse to ignore what God wanted them to do."
As Christians, we have that same responsibility to witness to others and share the gospel, no matter our age or circumstances. Do you sense God leading you in a new direction? Are you looking forward to the next season of life, searching for your purpose in retirement? Embrace our purpose as Christians just as Rev. Graham did. Be diligent in whatever area of service God has led you to. And let Paul's words in Galatians 6:9 NASB encourage you in your walk: "Let us not lose heart in doing good, for in due time we will reap if we do not grow weary."
Model his commitment
As you move forward with a renewed passion, thank God again for His faithful servant, Billy Graham. And picture Rev. Graham joining those other heroes of the faith mentioned in Hebrews 12. They are our mentors and inspiration, cheering us on as we keep the faith, run with endurance and continue to share the Good News.
"Therefore, since we are surrounded by such a huge crowd of witnesses to the life of faith … let us run with endurance the race God has set before us." Hebrews 12:1 NLT
Share this article with loved ones who may also want to honor the life of Billy Graham. Invite them to pay tribute by visiting his memorial site created by the Billy Graham Evangelistic Association.
Need daily encouragement to help you live your faith? Sign up for our 40 Days of Truth Series to prepare your heart for Easter through daily devotions. Or, browse our entire Devotional Library and sign up for our e-newsletter to receive free articles, updates from our Ecard Studio as well as exclusive deals.