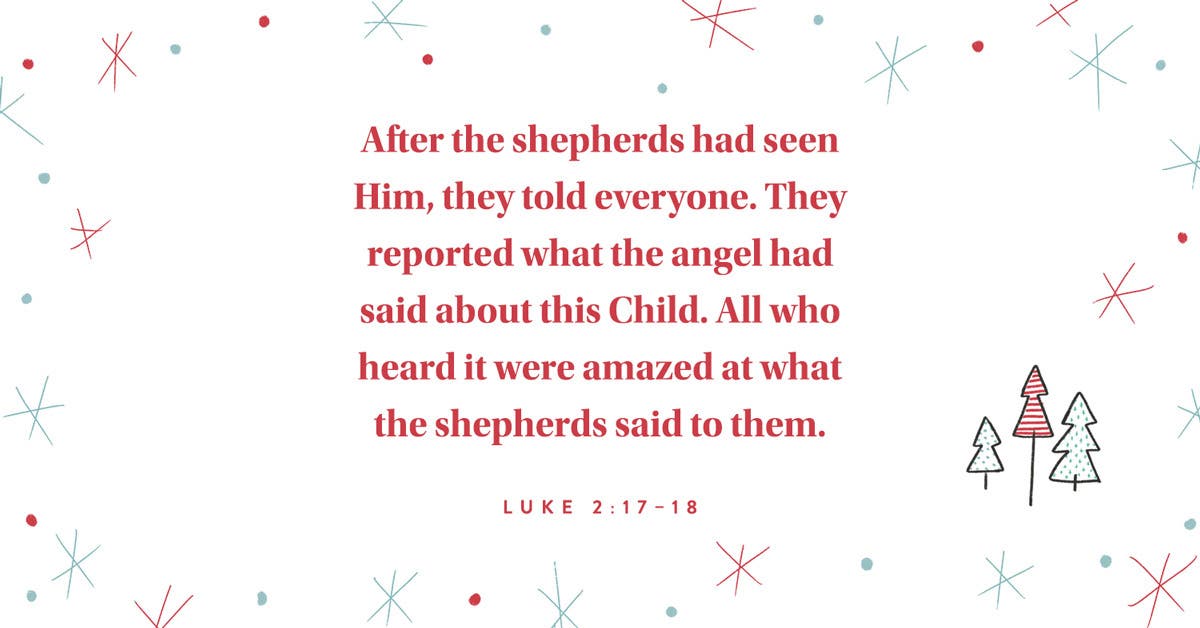 I have seen your Salvation with my own eyes. You prepared Him before all people. He is a light for the non-Jewish people to see. (LUKE 2:30–32 ICB)

The shepherd's story is rich and full of things to think about. Think about the angel's statement: "I bring you good news. It will bring great joy for all the people" (Luke 2:10).

Did the good news come only to shepherds? Only to Israel? Only to believers or Christians? No. "It is for all people." All means "everyone on earth."

This is a great time of year to think about how other people hear about Jesus. Missionaries are people who commit to going somewhere to tell people about the Savior. A missionary may be a person who regularly visits a nursing home to encourage people and tell them about Jesus. Or a missionary may be a person who lives in a certain neighborhood so they can make friends there. Once they make friends in a community, they tell people about Jesus. Some missionaries live overseas on tropical islands with active volcanoes. Why are they risking their lives? They plan to translate the Bible into a tribal language. Where is your "mission field"? That is, where has God sent you to tell the good news of peace and joy?

You may protest and say, "I'm just a normal person. God wouldn't send me!" But if you're a believer, God does want you to talk about Him!

Notice the people God puts in your path. Look around. See people as God sees them. He loves each person and wants to save them from their sins.

The "good news of great joy" is "for all the people"!

Father, thank You that the good news is for all people. Please help Your missionaries to have the strength and courage to tell others about You. Please help me to see people in my world with Your eyes.