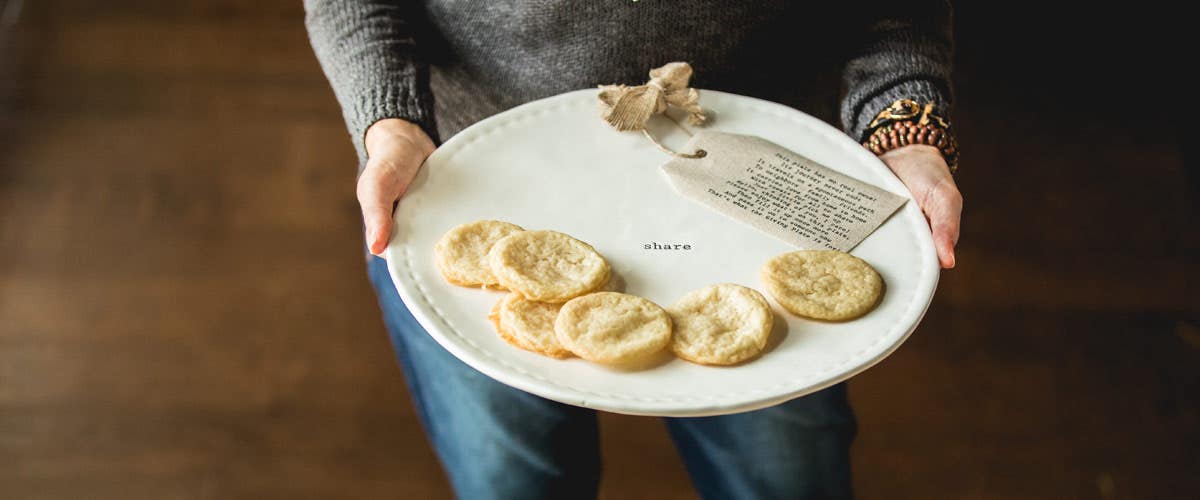 Below is an excerpt from The Turquoise Table written by Kristin Schell, a longtime DaySpring friend who found a way to slow down and connect with her neighbors by putting an ordinary picnic table in her front yard, painting it turquoise, and inviting friends and neighbors to join her.
I started using the phrase "gather small and love deep" long before I fully realized what it meant. Intuitively I knew the Turquoise Table was perfectly designed for four to six people—small gatherings. And being at the table, facing each other and sitting side by side, would allow an intimacy to listen and have real conversations. What I didn't anticipate was the importance of these small and ordinary moments.
At first I would ask myself, doubting, "Is it enough?" Is it enough to know my neighbors by name? To spend an hour simply having coffee with only a handful of people? Does it matter if all I do is nod my head with pursed lips and a wrinkled brow while a friend shares her heart? Is it enough to wave at the jogger? Does inviting half a dozen people for donuts in the front yard matter? With the magnitude of problems in the world, do these small gatherings at the Turquoise Table matter?
It took a while for my heart to catch up to my head. My impulsive side—you know, the one that painted the picnic table turquoise and plopped it in the front yard—believed without a shred of doubt that being present in the front yard matters. I recognize it now as faith—not something I control or do on my own, but God's gift to me—to keep going, to keep sitting at the table, to keep loving my neighbors as He intends for us all to do. I was hearing faint whispers of encouragement as I realized God was saying, "It matters to Me. When you show up, I'm at work."
Hospitality always feels small when you hold it in your hands. It's not until you let it go, released like an offering, that you see how extravagant and hallowed it is. Sometimes I don't "feel" anything happening, which, in our instant gratification and quick-fix society, feels like failure. Building community, investing in the lives right in front of us, requires us to take the long view.
Ordinary Moments Matter
Fall is a special season at the Turquoise Table. The air is crisp and inviting—an invigorating time to gather in the front yard with friends and neighbors.
Every year we host a soup party on Halloween. The idea was born out of practicality when the children were little and had friends from school whose neighborhoods weren't as festive for trick-or-treating. In an effort to make sure all the kids had a safe place to spend the evening, a tradition was born. We never know how many families to expect, and folks tend to drop in throughout the evening, so I make a couple different soups and keep them simmering on the stove.
Tips for Hosting a Neighborhood Soup Party
Variety. Make two pots of soup. Use recipes that serve a crowd or can be double easily.
Self-Serve from the Stove. Since our soup party is come and go, I leave the soup simmering on the stove and encourage guests to help themselves.
Use a Mix of Bowls and Mugs. Don't worry if you don't have enough bowls; pull out all your coffee mugs, too. It's fun to mix it up.
Set up a Topping Bar. Soup toppings are the best part! Put out plenty of versatile toppings like cheese, chips, chives, and sour cream.
Make It a Potluck. Depending on the size of your gathering, why not make it a potluck? Ask your neighbors to bring a pot of their favorite soup.
Head to the Front Yard. We take our mismatched mugs of soup and head outside to greet neighbors and trick-or-treaters at the Turquoise Table.
If you'd like to learn more about Kristin and her community of #FrontYardPeople, visit TheTurquoiseTable.com today to get connected. For more ideas on how to open your heart and home this season, check out our selection of hospitality articles.
Looking for more inspiration? Check out our Devotional Library and be sure to sign up for our e-newsletter to receive free articles, updates from our Ecard Studio as well as exclusive deals.