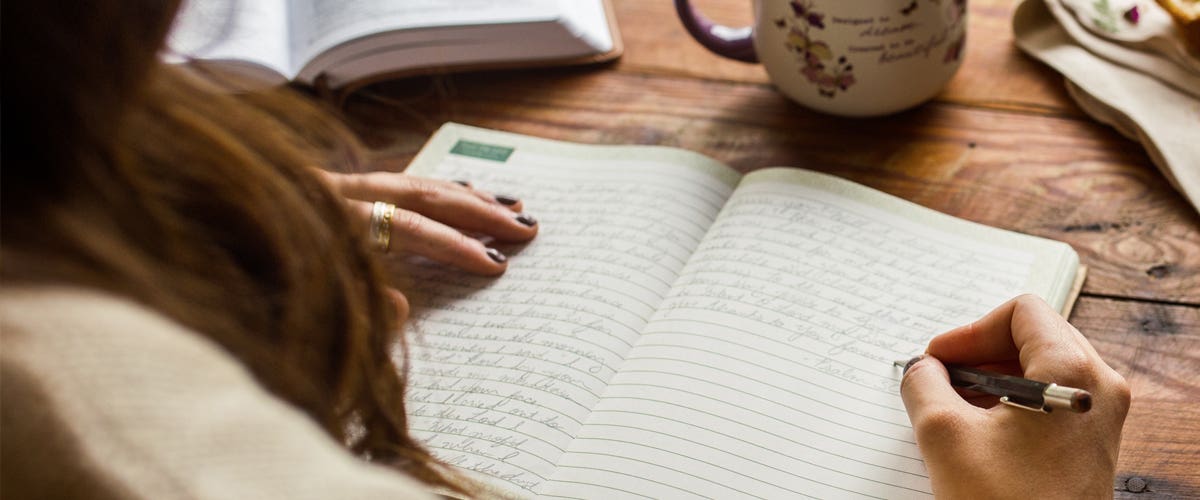 I've always loved to write. Even as a little girl, I was creating stories in my head. So I suppose it was no surprise that when I started struggling more with anxiety, my mom suggested starting a journal. For many, that brings on the image of a young girl and her diary. Aren't we too old for that? Journaling is much more than that. It can be a great way to get your inner thoughts out. As we write about the events of our life, we can better reflect on them. We can look back on our past mistakes and learn and grow from them. Plus, it's easy, right? Just write. But sometimes we need a little extra help. We have all these thoughts going through our heads but struggle to focus them and just get started. That brings me back to my high school English class. Each day on the board a word, topic or phrase would be written for us to journal about. In those days, I wasn't a fan. I already had so many ideas, I didn't need it. Looking back, I realize it gave us a starting point to work from and inspired us to write more.
For Christians, this is exactly what a devotional journal can provide. When we don't know what else to write, they give us a place to go. They give us questions to think about that allow us to grow our faith, pray more purposefully, and live our faith more intentionally. Take a look at these four great examples-
The Lifestyle of Prayer prayer journal guides us to pray with a purpose. What do you pray about in your daily prayers? Do you ever wish you had a better prayer life? This journal can help inspire you to go beyond your normal, everyday prayers to pray bigger. It gives us specific things to pray for that we may not think about in our daily prayer lives. It reminds us not just to pray for our wants, but for the community, healing, and understanding. It is a reminder to each of us just how powerful our God is, and what a powerful tool we have in prayer.
Roy Lessin's Drawing Near devotional journal also inspires us to strengthen our prayer muscles. However, where A Lifestyle of Prayer gives us a more specific direction, Drawing Near focuses more on looking at Scripture and devotional thoughts on the topic leaving it much more open ended. We can write our own prayers, big or small, and look back on them through time to see how God has answered.
Sparkling Gems from the Greek takes a completely different approach. Sometimes messages can get lost in translation. Often, we see this in our Bible reading ¬- the meaning of a word from the original language gets lost. This journal looks at a word from a verse and tells us what the Greek word truly meant so that we can better understand the intention. Imagine how our relationship with Christ can grow when we better understand His Word and how it applies to our everyday life. Sparkling Gems gives us that.
Devotional journaling can be a great tool for Christians of all ages, and Sadie Robertson's Live Original devotional journal is great proof of that. When it comes to living their faith, teenagers face a unique set of challenges. They deal not only with the doubts and worries that Christians of all ages can face, but also with peer pressure, issues with friendships and dating, confidence. The Live Original Collection deals with these issues. It inspires young girls to walk confidently in their faith, and be true to themselves.
No matter our age or where we are in our walk with God, journaling has a lot to offer each and every one of us, in whatever way we need it. Sometimes we need an open slate so that we can write freely all the ideas, thoughts and concerns that enter our heads. We have so much going on in our heads we just need to get it all out on paper. And, then there's other times, when we don't even know where to start, when we want to dive deeper into our spiritual side, but it just seems too far away to tap into. This is where the Christian devotional journal is helpful. Check out our entire selection of journals today to find just the right one to guide you as you grow, learn and reflect on what God is teaching you.
For more inspiration, check out these related articles:
Journaling to Deepen Relationships
Focusing Your Thoughts on Truth