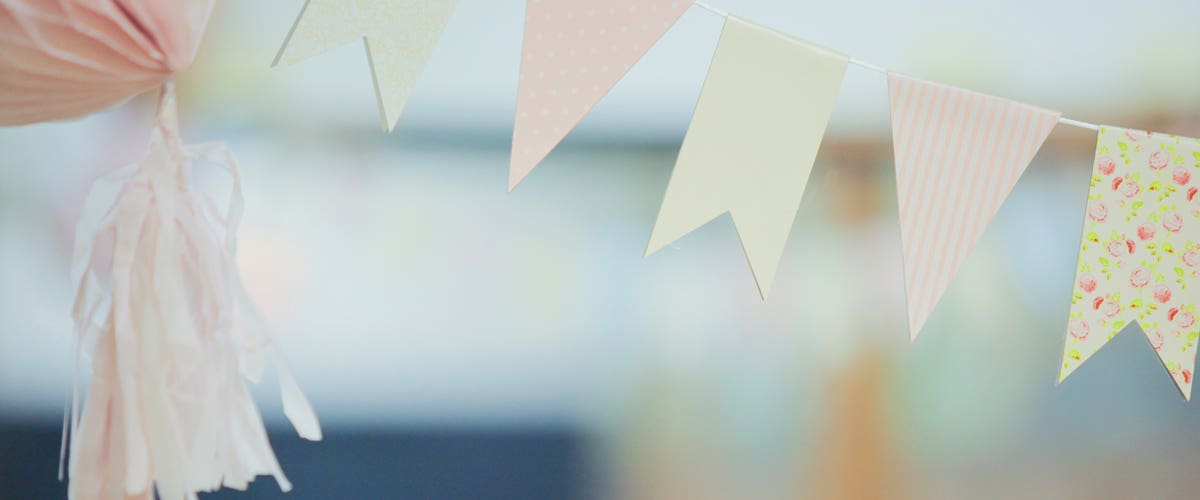 Whoever welcomes one little child such as this in my name welcomes me. Mark 9:37 CSB
Jesus reminds us often how precious children are to the heart of God, and when we celebrate the arrival of a new little one, we're sharing His love in a very special way.
While many of us have enjoyed showers with fun themes – princesses and nursery rhymes, sailboats and sports - what about trying something new this time? Something that focuses less on the fancy, fleeting stuff and more on the eternal, one-of-a-kind blessing that's unfolding in our midst? Below you will find three Scriptures along with ideas on how to integrate God's Word into this once-in-a-lifetime occasion.
1) For it was you who created my inward parts; you knit me together in my mother's womb. Psalm 139:13 CSB
o Include this verse on your invitations along with a photo of the mom-to-be holding up a pair of knitted booties or actually knitting something for her new baby.
o Decorate with knit blankets, pillow covers and even a knitted bouquet of flowers. Pin knitted corsages on the mom-to-be and the grandmothers-to-be.
o For an activity, what about having each guest try to knit a square? Then invite the expert knitter of the group to combine the squares to create a little "lovie" blanket. This would make a great keepsake.
o And, for an extra special treat, work with a cake designer to create a yarn-and-button decorated cake - don't forget to include the verse.
2) You are the salt of the earth….You are the light of the world… Matthew 5:13-14 CSB
o Use your creativity or consult an artistic friend or graphic designer to help create a beautiful invitation for this theme.
o Decorate with candles and coordinating salt shakers – this can be a fun way to reflect the guest of honor's personality. Is she a shabby chic girl? Does she love fun characters and colors? Classic style? Browse everywhere from garage sales to department stores. A salt shaker or candle tied with a little Scripture tag makes a memorable party favor, too.
o Fill the room with candlelight, and set out small tubs of warm water for everyone to enjoy a salt foot scrub and soak. Or, have each person create her own salt scrub with essential oils and coarse sea salts. Send creations home in jars tied with homemade Scripture tags.
o Have each guest write a little message to the baby with a wish or prayer for how this new life will be used by God to be "salt and light." Then, put the messages in a piggy bank and ask the mom-to-be to keep it and share when the child turns 18.
o Consider offering a Sea Salt Caramel Cake decorated with lots of candles, and other finger foods that match the theme.
3) He has made everything beautiful in its time. Ecclesiastes 3:11 NIV
o Bible journaling has become a tremendously popular new way to connect with Scripture in a creative way by combining faith and art. Grab all your Bible journaling goodies and spread them out on a big table along with journals or notebooks for each guest.
o Invite each guests to leave a sweet note for mom & baby in the margins of a journaling Bible, using paint, stamps, washi tape, stickers and more. What an amazing gift for a new mom!
Before handing out favors and waving goodbye to your guests, invite the group to place their hands on the mother's growing bump and say a prayer for the sweet little being coming into this world. Remember, decorations are temporary, but God's presence is eternal. While you work to create a wonderful experience, be assured that the greatest gift in the room will be the love of the One who made it all possible in the first place.
Looking for more ways to reach out to those celebrating a new baby? Send a free shareable Ecard or check out our Baby Celebrations section for just the right card and gift to welcome the new arrival.
Check out these related articles:
4 Comforting Scriptures for New Parents
Beyond a Meal - How to Really Bless New Parents
Looking for more inspiration? Browse our entire Devotional Library and sign up for our e-newsletter to receive free articles, updates from our Ecard Studio as well as exclusive deals.