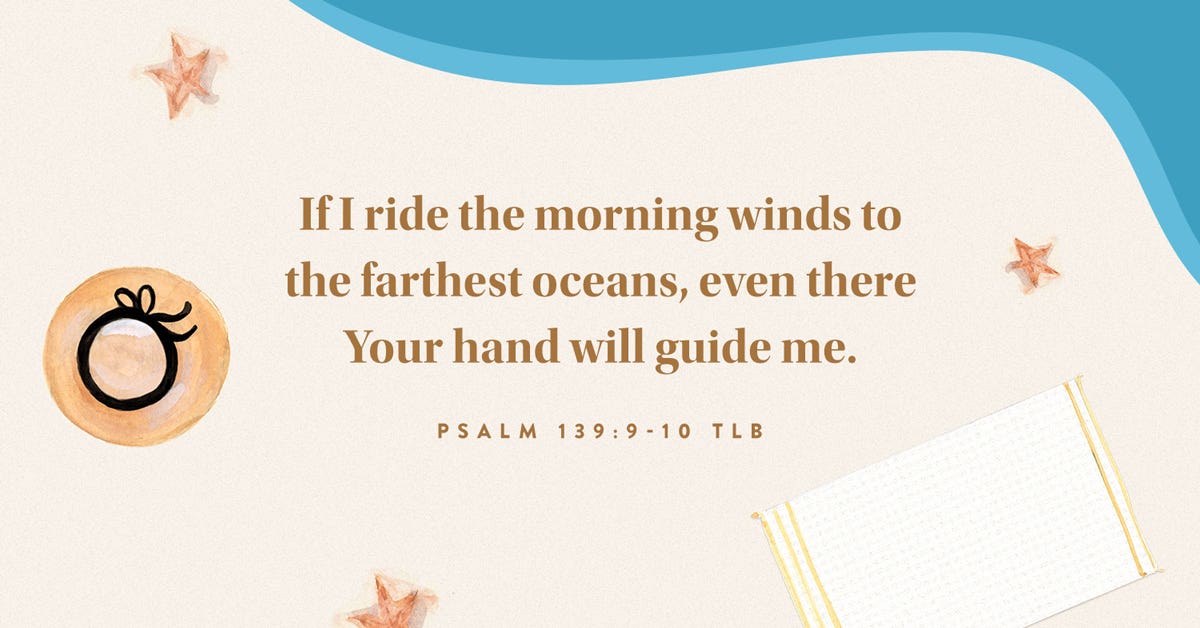 Don't you know He enjoys giving rest to those He loves? PSALM 127:2 THE MESSAGE
Salty air. Warm sand. Pelicans gliding. Sandpipers scurrying. Saltwater mist. Sun. Soothing shelter from puffy clouds slowly passing. Standing in the surf. Steadying ourselves when the waves pull, and we sink a little as the sand races out from under our feet. Smiling into the face of endless blue water. Everything about being at the beach calls our souls to relax. And God loves to see it. We can almost hear Him whisper, "Rest. I have you in the palm of My hand."
As fun as a day at the beach is for us, it's even more enjoyable for our heavenly Father to see us in a relaxed, carefree state of mind. When our hearts and minds are at rest, peace follows. And when we're at peace we're in a place of trust. It makes God happy to be trusted with everything in our lives. Our bodies weren't designed to carry stress. Sadly, burdens can be like blankets for our souls, giving us a false sense of security. We wrap them around us, and it feels comfortable—to be in control, to prove we're capable, to feel responsible for taking care of everything that concerns us. We carry our cares around until they're all worked out, never mind what the stress is doing to us in the process. It just seems easier to pick up that blanket and drag it along, carrying all the stuff ahead that needs to be resolved, fixed, decided, done, and provided for, even when there isn't a thing we can do about them right now.
Here's where real comfort comes from: "Give your burdens to the Lord. He will carry them. He will not permit the godly to slip or fall" (PSALM 55:22 TLB). Today, let's stop grabbing our "security blankets" of worry and instead spread out our beach blankets of peace. That's when we can fully enjoy God's company by believing He will never let us down.
Father, You enjoy giving me rest so I'm giving my cares to You. I trust Your strength, Your plans for me, and Your love.
This is an excerpt from The Beach is Calling: 90 Devotions for Rest & Relaxation – a devotional now available on DaySpring.com. Shop all books, journals, and devotions from DaySpring here.