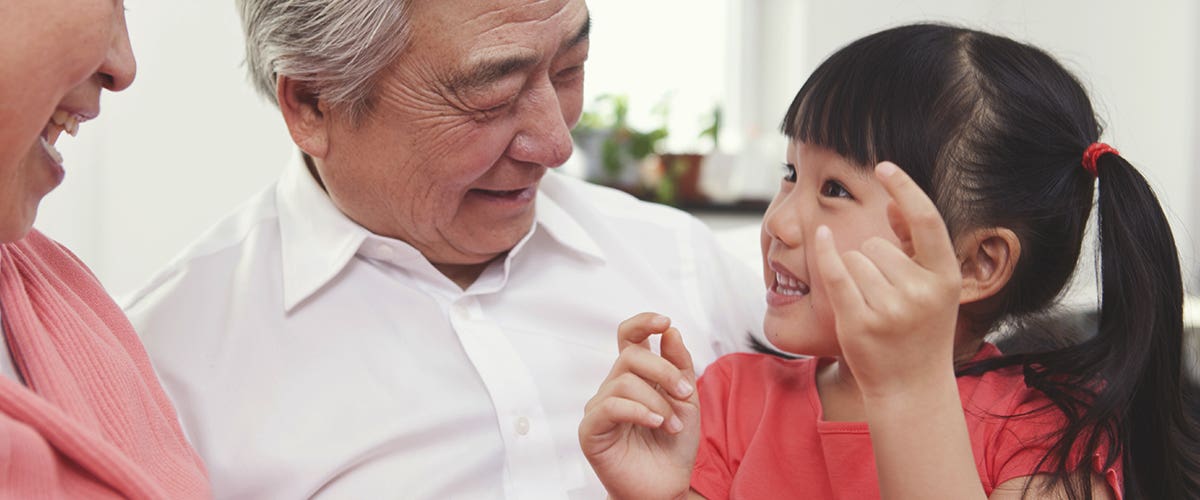 We are a mobile society, moving around the country—even the world—with ease. Long gone are the days when families lived in close proximity and grandparents contributed greatly to the raising of younger generations. Preserving important family bonds is more difficult than ever.


This was probably what the U.S. Congress had in mind when they passed legislation in 1978 proclaiming the first Sunday after Labor Day as National Grandparents Day. Its stated purpose was "to honor grandparents and help children become aware of the strength, information, and guidance older people can offer." This year, National Grandparents Day also falls on the National Day of Encouragement, which couldn't be more fitting. If you've been looking for ways to make Grandparents Day fun and meaningful for your children and your parents, consider these suggestions:
1. Create Grandparents Day Traditions. Along with your children, come up with a few special elements you can add to the celebration each year. These should take into consideration the grandparents' increasing age. This might mean sharing a dinner featuring a special dish, sitting for a three or even four-generation picture, or a collectible gift.
2. Make a special gift. To a certain extent this will depend upon the ages of the grandchildren. Help your younger children make plaster handprints or create a watercolor art piece featuring grandma and grandpa. You might suggest that your older children write about a special memory they shared with their grandparents. Urge them to read it out loud and present it with a hug and maybe even an inspirational gift. If you live far away, these special gifts can be packaged up and shipped.
3. Share a meal. Make this a time for heirloom plates and utensils, along with your favorite family recipes. Your house or theirs matters little as long as the location is convenient and comfortable for the seniors. Ask the grandchildren to serve and assign one of them to provide the dinner prayer.
4. Take a Trip. Especially if grandpa and grandma have a difficult time getting out on their own, a trip to a place of family significance may be greatly appreciated. This might be a park or lake where the family picnicked years ago. It could also be a drive-by of the area where the grandparents grew up. In the days following, ask your children to write down their thoughts about the trip in a journal and pass it along to grandpa and grandma.
5. Stage an Interview. Help your children come up with questions beforehand. Then, when you take your children to visit their grandparents on Grandparents Day, let them have fun asking the questions while you film with a video camera or your phone. Keep the questions wide open: "What was it like when you went to high school?" or "Could you tell us about the first job you had?" "What was dad like as a child?" or "Could you describe your greatest talent?" "Can you tell us about the best place you ever lived?" Then, turn it around and let the grandparents interview their grandchildren with questions like, "What do you like most about our family?" or "What are your favorite subjects in school?" If you live too far away to visit in person, you can use Skype or even your phone to conduct these interviews. Preserve these videos and make a copy for the grandparents. As time passes, these simple videos will become priceless family treasures.
Regardless of what your Grandparents Day observance includes, be sure to send a card. Plus, check out our free, shareable Grandparents Day Ecards, and sweet gifts.
Always remember Proverbs 16:31 CSB, "Gray hair is a glorious crown; it is found in the ways of righteousness." Grandparents are so much more than loving babysitters and portals to the past. This Grandparents Day (9/9), let us truly celebrate the important role they play in our lives and then, let's continue to foster the loving relationships between grandparent and grandchild on a regular basis. After all, God made something truly beautiful when He created the bond of family.
Check out these related articles:
A Prayer of Blessing for Grandparents
Watching My Granddaughter Walk Down the Aisle
Cousin Camp: Making Memories for Your Grandchildren
Looking for more inspiration? Browse our entire Devotional Library and sign up for our e-newsletter to receive free articles, updates from our Ecard Studio as well as exclusive deals.