All Occasion - KJV - 12 Boxed Cards, 12 Designs
Select the perfect card from these assorted greeting cards with KJV Scriptures for all occasions and bless a friend or loved one with its message.
Card 1
Front: Hope Comfort Strength Healing
Inside: May you rest in God's faithfulness, find strength in His promises, and be comforted by His love as you get well. With Thoughts And Prayers
Scripture: Bless the Lord, O my soul, and forget not all His benefits...who healeth all thy diseases. Psalm 103:2, 3 KJV

Card 2
Front: The Lord knows you are hurting—He sees your pain and feels your grief. He will be near to you to comfort you, give you peace, and bring you hope. He loves you and sees each tear you cry, because you matter so much to Him.
Inside: Thinking of You and Praying for You During this Difficult Time
Scripture: Thou tellest my wanderings: put Thou my tears into Thy bottle: are they not in Thy book? Psalm 56:8 KJV

Card 3
Front: thinking of you...
Inside: ...and asking God to surround you with His perfect peace and love.
Scripture: Thou wilt keep him in perfect peace, whose mind is stayed on Thee. Isaiah 26:3 KJV

Card 4
Front: So thankful...
Inside: ...for thoughtful you. You are a blessing!
Scripture: God is able to make all grace abound toward you; that ye, always having all sufficiency in all things, may abound to every good work. II Corinthians 9:8 KJV

Card 5
Front: Time has a way of making love more beautiful.
Inside: Enjoy your special day—and all the blessings God has ahead of you. Happy Anniversary
Scripture: Blessings are upon the head of the just. Proverbs 10:6 KJV

Card 6
Front: The light of God's love...The warmth of God's blessing...The touch of God's healing...
Inside: Praying that you will feel better soon.
Scripture: His compassions fail not. They are new every morning: great is Thy faithfulness. Lamentations 3:22, 23 KJV

Card 7
Front: A quiet heart...A little rest...A lot of getting well...
Inside: It's just what the Father ordered! Praying You'll Soon Be Well
Scripture: Casting all your care upon Him; for He careth for you. I Peter 5:7 KJV

Card 8
Front: For Someone Special On Your Birthday Quiet moments to enjoy the blessings around you...memories to make you smile long after the day ends...lots of reasons to feel as special as you truly are...
Inside: These are the things I hope the Lord gives you—along with a very happy birthday!
Scripture: The Lord shall bless thee...all the days of thy life. Psalm 128:5 KJV

Card 9
Front: When we lose someone we love, we want to know they'll be remembered. So this is a small yet heartfelt way to let you know they are...
Inside: ...and you are too. With Care and Prayers
Scripture: The God of love and peace shall be with you. II Corinthians 13:11 KJV

Card 10
Front: May your birthday be as joyful as the joy you bring...
Inside: ...as blessed as the blessing you are. Thinking of you on your special day
Scripture: The Lord shall bless the...all the days of thy life. Psalm 128:5 KJV

Card 11
Front: Happy Birthday...to one of God's dreams come true!
Inside: You are one of God's dreams come true. You started in His heart, were created by His hands, and presented to the world as a gift. That's what makes it so easy to celebrate you today—and why you bring so much joy all the other days too.
Scripture: I will praise Thee; for I am fearfully and wonderfully made; marvellous are Thy works. Psalm 139:14 KJV

Card 12
Front: Birthday Blessings Taking time to celebrate you!
Inside left: Lord, pour out Your goodness...Your abundance...and Your pure delight on this one you've uniquely made as a reflection of Your image. Refresh and renew them daily in the love of family and friends and in Your grace, hope, and peace. Amen
Inside right: You're celebrated not only by those who know and love you, but by the One who created you.
Scripture: The Lord they God in the midst of thee is mighty; He will save, He will rejoice over thee with joy; He will rest in His love, He will joy over thee with singing. Zephaniah 3:17 KJV
Product Specifications:
12 cards and envelopes
1 each of 12 designs
King James Version translation
Folded card size: 4 1/2" x 6 9/16"
Free Shipping Program Details:
Order $50 or more of product
Standard shipping only. (No discount on expedited or next day shipping)
Applies to DaySpring.com orders shipped to U.S. addresses only
We reserve the right to choose shipping method on qualifying orders
Customer Service & Order Details:
Customer Service hours are 8am - 5pm CST, Monday - Friday
Order Processing Call Center hours are 6am - 12am Monday - Saturday
Most orders will be shipped from our distribution center in Siloam Springs, AR within 1 business day from the time the order is placed. Please allow up to 2 extra business days for orders containing personalized products. We do not ship on Saturday or Sunday. Expedited and next day shipping orders will be processed same day if received by 12:00 pm CST. If received after that time the order will ship next business day.
Ships Free with $50 Order
Everyday Boxed Cards by DaySpring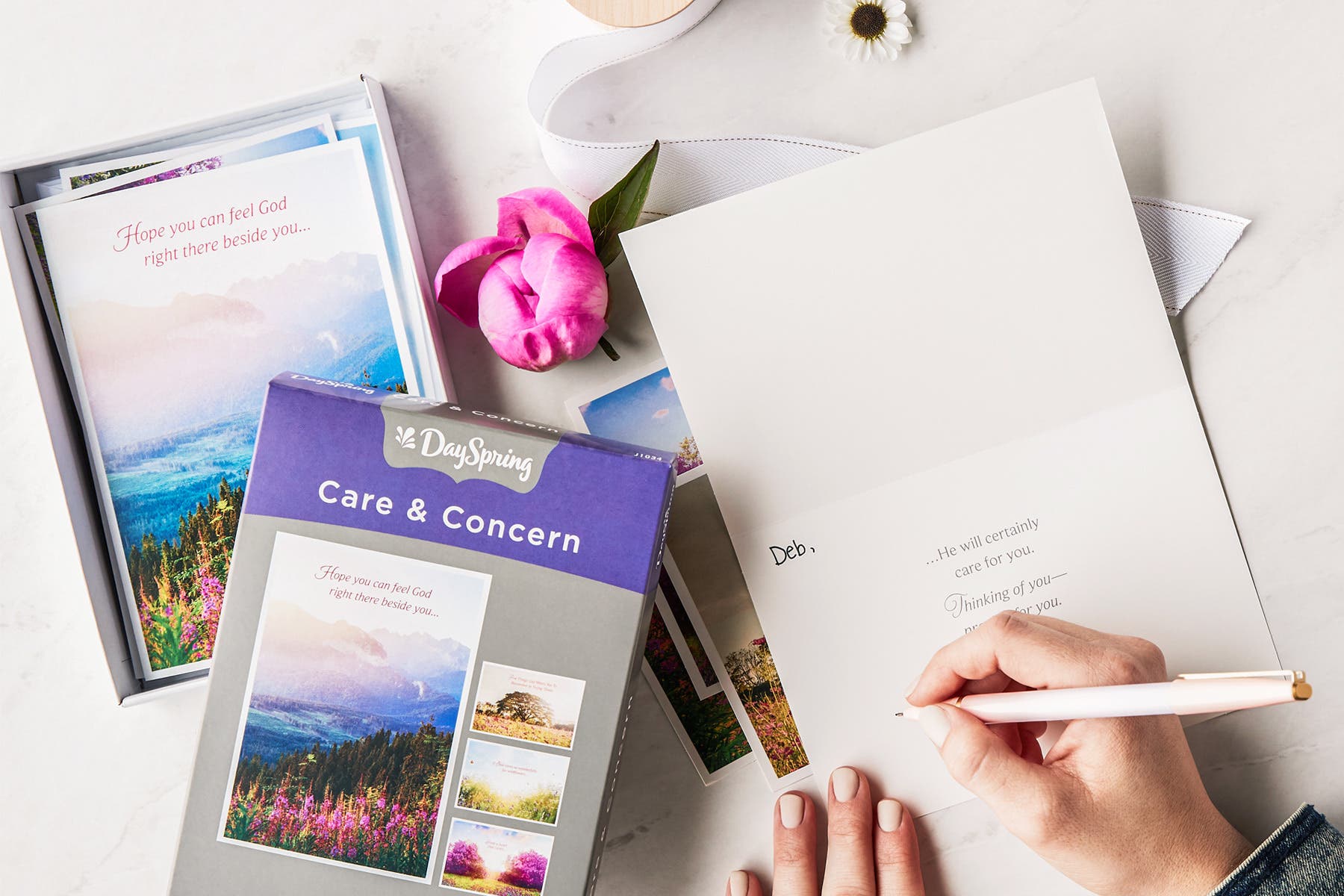 Inspirational Cards for Everyone...
DaySpring offers a wide variety of Christian cards for believers of all ages. Whether you're looking for your mother, father, spouse, grandparent or friend, you'll find the right card to deliver a thoughtful and poignant message crafted to encourage your loved one's faith and make them feel valued. Make sure the people you care about are supported and inspired this year.
... and Every Occasion!
We believe that greeting cards are a personal expression, a tool for communication, and a means for building and strengthening relationships. It is our purpose to create cards that express the love that flows from God's heart into our hearts and out to the hearts of others. From Birthdays to Weddings to Difficult Times, a DaySpring Card always has a heartfelt message for the occasion. With a variety of designs including quoted Scriptures, fun drawings, beautiful photos and more, you are sure to find one that reflects your style. Boxed cards are a wonderful way to always be prepared when hardship occurs or when there is news to celebrate!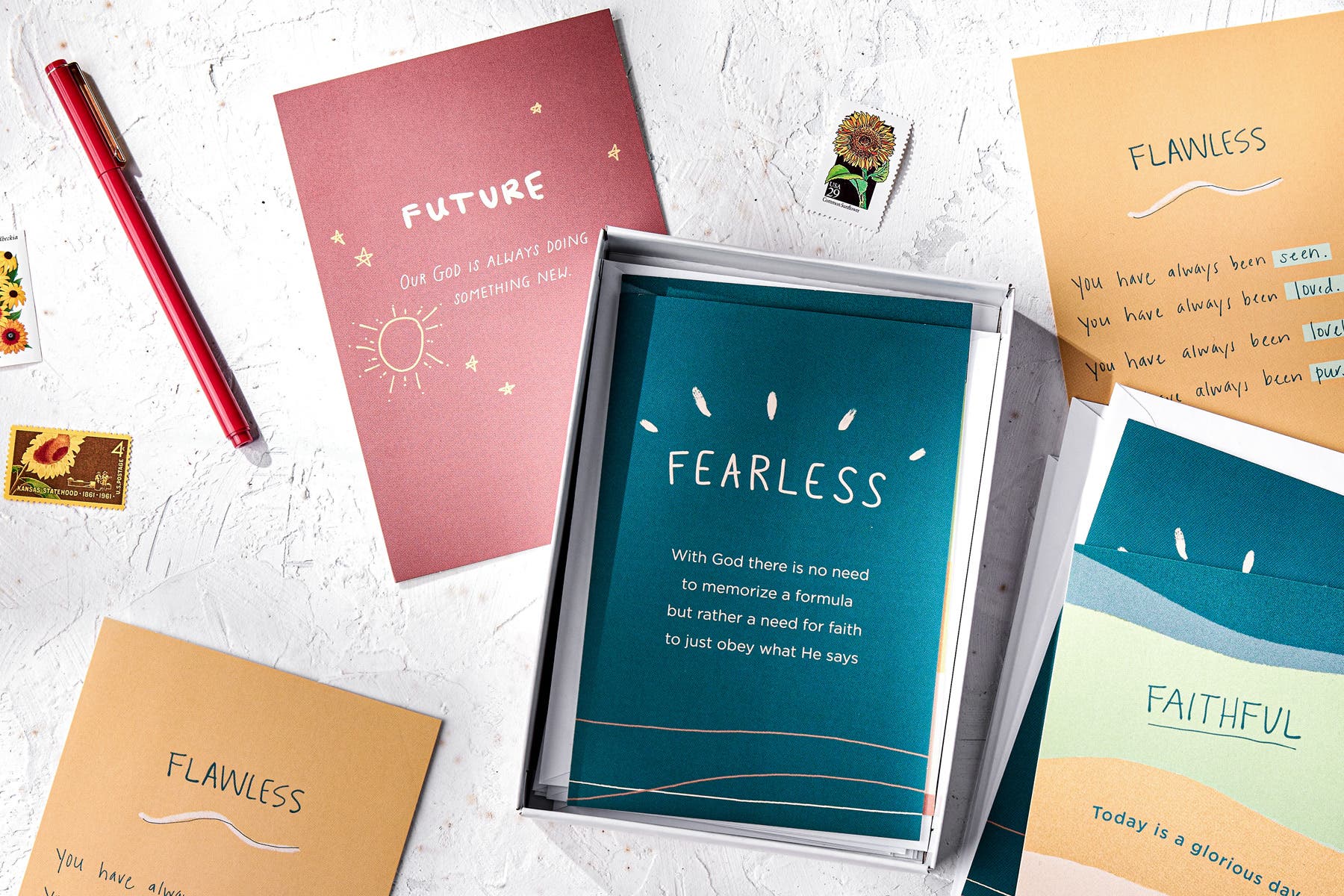 Meaningful products.
Inspired designs.
Trusted messages.
For over 50 years, we've partnered with people like you to spread the hope and encouragement of Jesus...and we're just getting started.